Apartment with traditional ceramic stove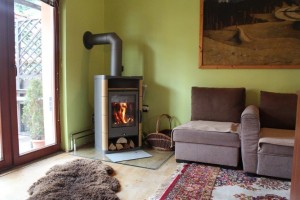 As part of our family accomodation business, we also offer Marko Appartments in Oščadnica, located about 1.5 km from the centre of the village, towards Lalíky area.
Marko Apartments is a stand alone extention of a family house with separate entrance and private parking . The building is divided into 2 apartments accomodating up to 8 people . There is a small grocery store nearby and the nearest restaurant is aproximately 150m away.
APARTMENT WITH TRADITIONAL CERAMIC STOVE is a space with an area of 25 square meters suitable for 2-4 people .
When creating the apartment, the owners utilised a large room with elevated attic space and divided it into bedroom and living room. The living area of the apartment is equipped with a large sofa bed, dinning table and chairs, TV, toilet, shower and traditional ceramic stove. Part of the apartment is an open space kitchen that is fully equipped in order to prepare simple meals or breakfast. Wi – Fi is free throughout the building .
During summer months, you can enjoy a covered terrace for barbecues or simply, just to relax.
PRICE

SPRING-SUMMER-AUTUMN
01.04.20 – 30.11.20

CHRISTMASS
24.12.20 –03.01.21

WINTER
01.12.20 – 23.12.20 , 04.01.21 – 31.03.21

1 night/ 2 people

 36 EUR

47 EUR

 38 EUR

1 nights/ 3 people

54 EUR

70 EUR

57 EUR

 min.stay 3 Nights
Local tax – 1 euro/person/night.