Family room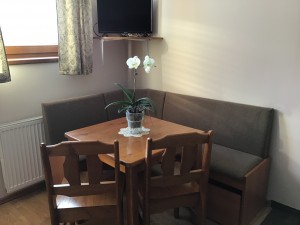 This spacious apartment has an area of approximately 42 square metres, accomodating 4 adults . The capacity of the apartment can be increased to 5 people by using the extra bed (additional charge of €13 per night applies).
The apartment has two separate bedrooms. One of the bedrooms is equipped with double beds, TV, table, chairs, toilet, shower and balcony. The other room has a comfortable sofa bed for 2 people, a TV, a table, chairs and a kitchenette for preparing simple meals or breakfasts.
Wi – Fi is free throughout the building.
PRICE

SPRING-SUMMER-AUTUMN
01.04.19 – 30.11.19

CHRISTMASS
24.12.19 –01.01.20

WINTER
01.12.19 – 23.12.19 , 02.01.20 – 31.03.20

1 night/ 2 people

44 EUR

77Eur/Nightmin. stay 3 nights

 60 EUR/Night

1 night/ 3 people

55 EUR

88Eur/Nightmin. stay 3 nights

70 EUR/Night

1 night/ 4 people

66 EUR

99Eur/Nightmin. stay 3 nights

77 EUR/Night